Manufacturers > ART > ART ABY Cool Switch Pedal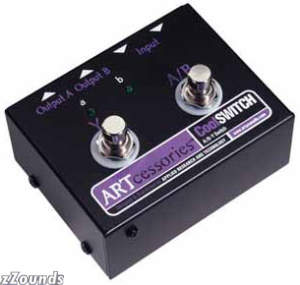 ART ABY Cool Switch Pedal
A/B-Y switching works two ways. It lets you switch a common source signal (guitar, bass or keyboard) between two amplifiers or amp channels. Or conversely, it lets you switch two source signals (ie, two different guitars) into the same amplifier. A good quality A/B-Y switcher will also provide LEDs or other indicators to show whether A, B or Y routing is in effect. The Y routing combines both the A and B outputs in parallel so that two amplifiers can be driven at once. The Coolswitch provides full A/B-Y switching functionality, plus parallel Common in/out jacks.


Feature:
The A/B-Y part is very nice. I can play in one or two amps at the same time . The LED light is working ... nice to know where you stand with this thing visually.

Quality:
It seems solid. I've only had it two days .

Value:
I'd pay more for a silent switch that used good old American HARD steel screws (that won't strip after using them twice).

Sound:
I just bought it and will be looking for a differant one that will switch SILNTLY. I took the chance wilth the little to no info I could find on this and lost. What's with the big clunky bang when I switch the pedal? Guess you get what you pay for.

Overall:
If they'll eat my return postage I'll send it back to get a silent switch.

Manufacturer: ART
List Price: $55.00
Online Price: $45.95

Buy ART ABY Cool Switch Pedal at zZounds.