Manufacturers > Behringer > Behringer AB200 Dual A/B Switch Pedal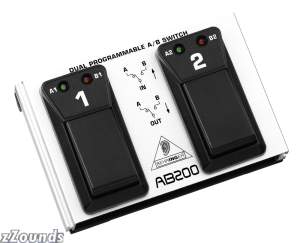 Behringer AB200 Dual A/B Switch Pedal
This universal, ultra-compact 2-channel footswitch is an ideal accessory for stage and studio applications. Use it on gear featuring external control functions such as guitar amps, keyboards, rhythm machines, lighting products and so on. You can easily switch between two input signals into one output or vice versa. Latching/non-latching modes are selectable for both channels.


Feature:
This is actually two A-B switches in ONE! I got it together with a 2nd V-Amp Pro so I could switch between the two without delay and to fiddle with one while I play the other. As a bonus, I found that through some creative use of this pedal I could work in a microphone to sing through the effects box I wasn't using. Very good!

Quality:
Seems good so far. only used it one weekend.

Value:
Twice the pedal for 2/3 the price of a BOSS.

Desirability:
Pretty sure my bandmate will get one too. Hell, I might even get a second one.

Sound:
I did not notice any coloration or distortion or noise.

Ease of Use:
Like a lot of Behringer products, this has more functionality than buttons, and doesn't cater to your intuition. It's a simple device, however, so it only takes 2 minutes of looking at the instructions to figure it out. It took me 3 minutes more to figure out the complex arrangement explained above, but after that I was completely satisfied.

Manufacturer: Behringer
List Price: $75.99
Online Price: $37.99

Buy Behringer AB200 Dual A/B Switch Pedal at zZounds.