Manufacturers > Boss > Boss AB-2 2-Way Selector Pedal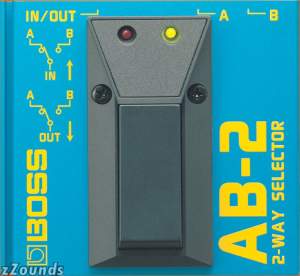 Boss AB-2 2-Way Selector Pedal
The Boss AB-2 is a 2-way selector that makes changing inputs or outputs easy. One stomp is all it takes to instantly switch between two guitars or effects setups, change amplifiers or switch between an amp and tuner. Rock-solid Boss construction ensures the AB-2 will stand the test of time.


Feature:
Very basic and simple. Does just exactly what it's meant for.

Quality:
Metal case, GT-6 switch, rubber,non-slip base, heavy, I don't think this unit could be constructed any better!

Value:
A little pricey, but look at the quality and the silent switching circuitry. I would gladly pay this much again!

Desirability:
I don't just want it, I need it. I use a Fender Twin Reverb amp and use it for channel switching.

Sound:
Seamless, silent switching. No degradation of sound at all.

Support:
I'm guessing Boss is okay on support, I've never had to find out!

Overall:
Better than anything else out there for this purpose!

Manufacturer: Boss
List Price: $53.50
Online Price: $39.00

Buy Boss AB-2 2-Way Selector Pedal at zZounds.