Manufacturers > Boss > Boss BAG-L2 Carry Bag For GT6 and GT8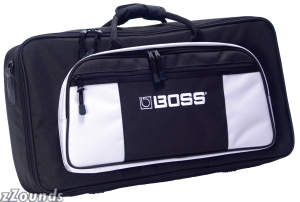 Boss BAG-L2 Carry Bag For GT6 and GT8
A handy, rugged carry bag built just for your BOSS GT6. Recognized by guitarists everywhere as the world's first name in compact effects pedals, BOSS makes sure you get the tone you want every time you play. Whether it be classic or hard rock, blues, jazz, country, funk or something new, wild and completely on the edge, BOSS helps you find your tone. Beyond the killer effects pedals, BOSS is also constantly pushing the envelope to develop innovative multi-effects, rhythm machines and other easy-to-use instruments for musicians of all types. Put simply, BOSS gives you the great-sounding tools you need to spend more time making great music.


Manufacturer: Boss
List Price: $59.00
Online Price: $49.95

Buy Boss BAG-L2 Carry Bag For GT6 and GT8 at zZounds.