Manufacturers > Boss > Boss LS-2 Line Selector and Power Supply Pedal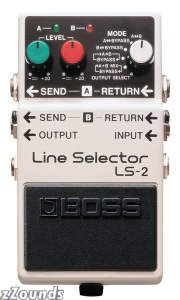 Boss LS-2 Line Selector and Power Supply Pedal
The LS2 makes it easy to switch settings among several effects and to route input and output signals.


Feature:
I like the ability to switch between 2 channels and simultaneously use other pedals w/ each channel. I like the separate volume controls. It's a dream and I'm getting one!

Quality:
It's Boss, built like a tank and built quality. What else can you say?

Value:
It's on sale now for around $80. Great deal. I'm not real sure about other brands. I'm a BOSS man mostly.

Desirability:
sex appeal? Get real! But I really do want it!

Sound:
I had a problem w/ my BD 2 amping up so much louder than my other pedals that my volume pedal was useless. I tried turning down volume on my GE 7 but that affected the tone. I tried out this unit, ran it thru A channel and my MM 4 looped thru B and everything else straight thru. The result is a balanced sound and I didn't lose that wonderful BD2 tone!!

Support:
Yes. I called Boss because of my volume problems. After talking to the tech he recommended this unit. Guess what? He was dead on RIGHT! I like that :D

Overall:
I don't anticipate replacing it. If I did my wife would kill me LOL

Manufacturer: Boss
List Price: $161.50
Online Price: $79.95

Buy Boss LS-2 Line Selector and Power Supply Pedal at zZounds.