Manufacturers > DOD > DOD 270 A/B Switching Pedal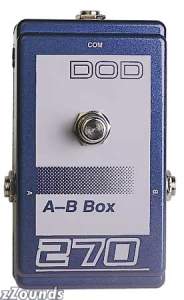 DOD 270 A/B Switching Pedal
The DOD AC270 is a simple A/B box. It provides switching from one source, to 2 destinations, or 2 sources to one destination. The switching is done via a mechanical push/push switch. Source and destination connections are all unbalanced 1/4 in. jacks.


Feature:
only a 9 for features because it would doesn't have an indicator light to show which channel is active - that would be nice.

Quality:
Solidly built - all metal construction.

Value:
At under $40 this item is Totally worth the price !

Desirability:
Ha Ha ! ... it's not sexy - it's ultra-functional - just like it's supposed to be ! ... I'm considering getting another one to add more versatility to my rig !

Sound:
Great Switcher ! ... it doesn't color or alter the sound at all ... just switches - just like it's supposed to.

Ease of Use:
easy hook up ... then just step om the switch at the appropriate time - ta da !

Support:
I've never had any reason to deal with them ... this is a great piece of gear !

Overall:
I see no need to look for another product ... I'll just another one of these !

Manufacturer: DOD
List Price: $65.00
Online Price: $37.95

Buy DOD 270 A/B Switching Pedal at zZounds.