Manufacturers > Dunlop > Dunlop Gator Grip Standard Picks (12-Pack)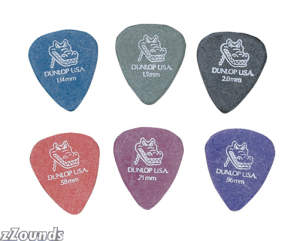 Dunlop Gator Grip Standard Picks (12-Pack)
Gator Grips are high quality picks from Dunlop and come in your choice of gauges.


Feature:
The pick is somehow made with something that makes it really easy to hold onto. I used to have a pick go flying once in a while, but now with this pick, I don't really ever drop my pick.

Quality:
It has an alligator head on it, so it's cool automatically. I bought the purple ones, and I think I've only worn one out in about three months. However, I might have lost some, but that's my fault.

Value:
12 picks for a couple bucks. Definitely worth it.

Desirability:
It has an alligator on it! I love it!

Overall:
I currently use these picks the most out of about 10 other kinds. I just the the thickness I got and the non-slick surface of these picks.

Manufacturer: Dunlop
List Price: $5.70
Online Price: $3.95

Buy Dunlop Gator Grip Standard Picks (12-Pack) at zZounds.