Manufacturers > Morley > Morley ABY Selector Combiner Pedal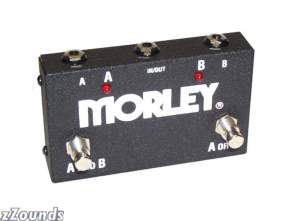 Morley ABY Selector Combiner Pedal
Route one signal to 2 outputs or 2 inputs to one output. Then choose A, B, or A & B combined. LEDs show you which signal is active. One 9-volt battery is required for LED indication. 2-year warranty.


Quality:
Seems well built

Value:
There are a few other switches that are a little cheaper.

Sound:
This switch gets the job done if you need to use two amps but there is an annoying electrical hum as well as some tone degradation. The package of this unit recommended the Ebtech Hum Eliminator to help with the hum, but I don't really want to shell out $60 to find out if it works.

Ease of Use:
It's pretty straight forward, and the led's help you see what you're doing

Overall:
I've had it about a year and haven't used it in probably 7-8 months. I got it for a sketchy rig I was using at the time. I would like a way to switch between the Marshall and Fender amps I'm using now, but I can't live with a loud hum coming from over $3000 of amp.

Manufacturer: Morley
List Price: $95.00
Online Price: $54.95

Buy Morley ABY Selector Combiner Pedal at zZounds.