Manufacturers > Radial > Radial Tonebone Loopbone Dual FX Loop Switcher Pedal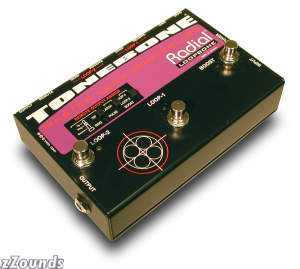 Radial Tonebone Loopbone Dual FX Loop Switcher Pedal
The Radial Loopbone is a powerful effects loop controller for pedal boards that allows the guitar player to insert 2 separate pedal effects chains and remove them when not in use. This is particularly advantageous when using older pedals that tend to add noise and cause loading problems in the signal chain. The Loopbone incorporates a superb 'post effects' variable gain power booster that allows for straight signal boosting or post loop-1 or loop-2 boost for soloing.


Manufacturer: Radial
List Price: $350.00
Online Price: $259.95

Buy Radial Tonebone Loopbone Dual FX Loop Switcher Pedal at zZounds.